1. After an internal debate worthy of the high school forensics club, three trips to the parking permit office, and even more aborted efforts to log in/ register our car/ etc., we are now the owners of a UW parking pass. You could fill the gas tank with Courvoisier for what we paid for that parking pass, but I think the pain will go away the first time I use my very own washing machine (3 days and counting).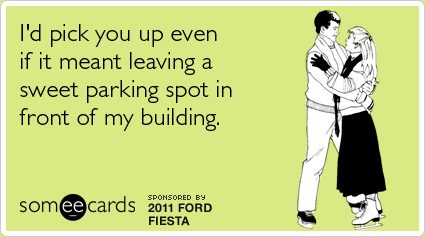 2. The gym has booted the normal CNN morning show in favor of a channel (also by CNN) that actually broadcasts news. You'd think that exchanging mildly witty banter and arguing for real stories would be a nice change, but the real news is way too depressing at 6:30am. Yesterday's stories were on civilian casualties in Syria, a British man who'd had a terrible stroke and died while fighting a court battle to be able to end his life via doctor assisted suicide, honor killings in Pakistan, and a Hurricane Katrina 7-year retrospective. Today I switched to the local news and watched a story about a cat with a face that's half black and half orange.
3. We signed up for a 1-week trial on Hulu Plus to watch season 2 of Raising Hope and have watched a minimum of 4 episodes an evening so we can make it through all 22 before the 7 days are up because we don't actually want to have to pay for Hulu Plus or use my e-mail address to get a second free week. We need to save that up for our next TV obsession. Even though that show is pretty hilarious, I'm glad Daniel has worship arts this evening so we get a night off. I used to think we weren't the kind of people who watched hours and hours of TV every night, but it turns out we are. And it takes dedication.